Outdoor kitchens are a popular trend with homeowners who want to create an inviting space for entertaining on warm summer evenings. These spaces revolve around food, so we've laid out a feast of products that allow cooking to be the focus of social gatherings. Whether relaxing round the grill or putting together meals at a workstation before you dine around the fire, with these new products the rising temperatures won't be all that's heating up your outdoor space this summer.
Danver Outdoor Kitchens: Sea Glass outdoor kitchen cabinets
New cabinet door styles for patio kitchens from Danver are designed to mimic the luxury of indoor spaces, the company says. Along with a new stainless steel louver door in solid color and wood grain finishes, the company has introduced the Sea Glass collection (shown), available through both the Danver and Brown Jordan Outdoor Kitchens brands. It features colored door inserts in green, blue, and white. The inserts are available in the Shaker-style Key West and Palm Beach doors to create a contemporary and custom look. www.danver.com –LM
Liebherr: RO 510
Suitable as part of a full outdoor kitchen or as a stylish stand-alone unit, the RO 510 is a compact 24-inch outdoor refrigerator. The appliance can be set to maintain a temperature ranging from 34 degrees to 59 degrees and is designed with a weather-resistant stainless steel exterior. Storage options include three glass shelves with stainless steel trim, two door racks (one adjustable), and specially designed bottle grooves on the unit floor. www.liebherr.us –LM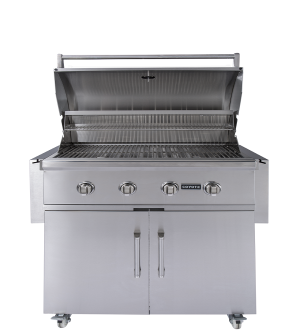 Coyote Outdoor Living: CCX4 GrillThe grill is the centerpiece of any outdoor kitchen space and the gatherings that occur in it. The CCX4 is a four burner, stainless steel grill. The spacious 36″ model has a double walled hood and a warming rack. Interior lights allow for extra ease-of-use when spending summer evenings outside grilling.www.coyoteoutdoor.com/ –LS
The Galley: Ideal Workstations 
Cooking outdoors can be a family affair while gathered around the new Ideal Workstations from The Galley. The stainless steel workstations are designed with interchangeable accessories so users can customize their kitchen space with built-in colanders, mixing bowls, and cutting boards. Various models are available from two to seven feet long and workstations are built with a 10″ deep stainless steel sink. The workstation can be installed in countertops, making it an ideal addition to combine cooking and entertaining in any outdoor kitchen space. http://thegalleysink.com/ –LS
Kalamazoo Outdoor Gourmet: Gaucho Grill
Perfect for traditional and authentic outdoor cooking in the summer months, the new gas-burning Gaucho Grill from boasts a sleek stainless steel finish that gives a modern update to the classic Argentinian/Santa Maria-style cooking method. The cooking surface cradle is raised and lowered by a 30-inch spoked wheel, so the interchangeable cooking surfaces—with options for vegetables, meat, and fish—and rotisserie roaster can be adjusted for high temperature searing or slow, low-temperature cooking. Your patio will stay clean too—the Deep Hopper funnel directs debris and collects it in an easy to clean bin. The grill is available in two stand-alone options and one built-in model. And for more ways to give your outdoor meals a wood-fire taste, check out Kalamazoo's newest product, the Artisan Fire Pizza Oven. www.kalamazoogourmet.com –LS
For the cooler summer nights, heat up your outdoor kitchen after the grill has been turned off with these Six Sizzling Outdoor Fireplaces from Custom Home.
Article from: https://www.builderonline.com/products/exteriors/hot-products-for-outdoor-kitchens_o?o=0